October 2020 Activities and Updates from UOSSM USA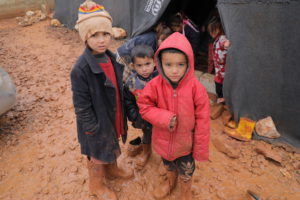 UOSSM USA Launches Winterization Campaign for Displaced Families in Northwest Syria
Winter is almost here, and for those living in displacement camps in northwest Syria, this is the beginning of a season filled with human suffering and misery from extreme cold and horrible living conditions. Tens of thousands of families are living in displacement camps with little to no access to the basic necessities needed to survive. Many do not even have tents. COVID-19 remains an immediate threat with no ability to social distance in crowded displacement camps, no access to clean water and soap, and weakened immunity due to limited access to food and medical care. These families will be living in the extreme cold with hardly any protection from the outside elements.
UOSSM USA is taking proactive measures to protect thousands of internally displaced families in camps this winter. We want to help distribute tents, warm blankets, hygiene kits, and nutritional food baskets to those who need it most. This initiative will help save their lives and alleviate their suffering. YOU CAN HELP! For $400 we can provide a family of 5 with 1 tent, blankets, and a 3 month's supply of nutritious food and hygiene essentials, which is less than $5/day, every dollar helps. Our ultimate goal is to raise $400,000 to provide these winter kits to 1000 families. Please support our work and help us provide them with nutrition, shelter and warmth.
Please click here if you would like to support this campaign.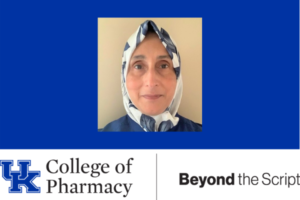 Dr. Khaula Sawah, President of UOSSM USA Speaks At University of Kentucky College of Pharmacy Convocation
Dr. Khaula Sawah, president and co-founder of UOSSM USA spoke at a virtual convocation at her alma mater at the University of Kentucky College of Pharmacy where Dr. Sawah earned her Doctor of Pharmacy degree. She spoke of the defining moments students will have during their time in college and the journey of her life. Dr. Sawah shared challenges and advice as a pharmacist and humanitarian, to the students.
Dr. Sawah continued with her speech shedding light on the Syrian crisis and the level of human suffering millions continue to experience for over 10 years, and her journey into becoming a humanitarian working to support the Syrian cause. Dr. Sawah said, " Our lives are guided by what we believe in…guided by our principles. Regardless of your background and support system, if you fight for what you believe in it will drive you forward  no matter the condition, you will create that support system, regardless of your situation. This will allow you to continue your journey and chart your path to your future."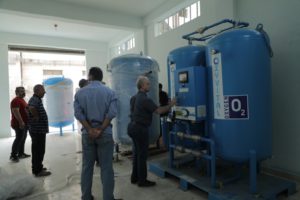 UOSSM Provides the National Hospital in Idlib With New Oxygen Station in Response to COVID-19
In response to the COVID-19 outbreak, and to improve the flexibility and accessibility of health services to communities and individuals, UOSSM provided the National Hospital in northwest Syria with a new oxygen station. The capacity of the oxygen generator should be at least 40 m3 or equal to 150 cylinders (50L\100 bar) in 24 hours. In addition, UOSSM will rehabilitate and update 11 oxygen stations in 11 facilities. UOSSM continues to implement an emergency plan in response to the COVID-19 pandemic with the following measures:
Supporting primary health care centers (PHCs)
Establishing and operating community-based isolation centers (CBICs)
Sterilization of displacement camps
Distribution of hygiene kits containing sanitizing and personal care items
Distribution of nutritious food baskets
Establishing a distance-learning center in Afrin
Distributing educational awareness brochures about COVID-19 in areas of displacement.
In addition, UOSSM continues to provide awareness and training on COVID-19 to medical and administrative personnel.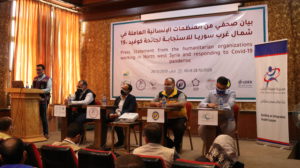 UOSSM Participates in Press Conference on the Spread of COVID-19 in Northwest Syria
On October 28, UOSSM, along with the Idlib Health Directorate, the Assistance Coordination Unit (ACU), the Syrian Civil Defense (White Helmets), and other local NGOs, participated in an urgent press conference. The press conference provided the latest numbers of confirmed cases, deaths, and other updates about the spread of COVID-19 in Idlib, and the response of humanitarian and medical organizations to the coronoavirus pandemic.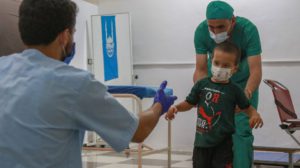 Impact Story- Mohammed Suffers From Cerebral Atrophy, But Now He Can Walk on His Own!
Mohammed is 6 years old and lives in the Kafr Daryan displacement camp along with his mother and grandfather in northwest Syria. His father has been missing for over 1 1/2 years. Mohammed has been suffering from cerebral atrophy since birth, making him unable to stand or walk. His family's financial situation prevented him from getting any medical treatment in specialized centers. This made his situation worse. Mohammed's mother heard about the physiotherapy center in UOSSM's Bab Al-Hawa Rehabilitation Center and took him there for an examination.
After many tests and thorough examination the specialists concluded that Mohammed is able to walk but never had the proper guidance or training to learn how since he did not have access to the appropriate medical care. UOSSM specialized therapists prepared a treatment plan for the young boy which began with intensive physiotherapy including balancing and eventually, walking. Mohammed initially had difficulty walking due to his fear of falling. Through perseverance and determination his fears slowly faded away and he was able to take his first steps.  After two months of intense therapy and specialized exercises, we are so happy to report that Mohammed can walk on his own without any fear and without any help, thanks to our supporters who helped make this happen!
Together, we are saving lives and building hope.
Since 2012, UOSSM has been providing emergency medical relief and healthcare services to the Syrian people affected by the crisis, working primarily inside Syria and with Syrian refugees in Turkey.
In 2019:
UOSSM provided medical services to almost 1.5 million people in Syria and Turkey
UOSSM provided primary health care services to over 235,000 people
UOSSM provided protection services to over 29,000 people
UOSSM provided over 93,500 beneficiaries with nutrition services focused on
women and children
UOSSM Mental Health and Psychosocial Support Services provided care to over 34,000  people
UOSSM Bab Al Hawa Hospital provided health care services to over 1 million patients since establishment through the end of 2019