May 2020 Activities and Updates from UOSSM USA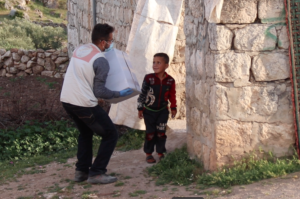 UOSSM USA Distributes +3000 Nutrition and Food Baskets in Ramadan
UOSSM USA, in collaboration with UOSSM Canada and Turkey, distributed over 3000 nutrition and food baskets to displaced and families in need in northwest Syria during the month of Ramadan. The nutrition and food baskets included healthy food items that will help them stay healthy and boost their immune system amid COVID-19. The families were happy to receive the baskets, which included nutrition and food items for one month for a family of five.
Please click here to watch the video of the nutrition and food baskets being distributed.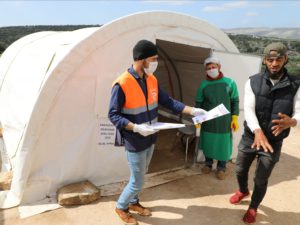 UOSSM Launches COVID-19 Emergency Response in Syria
In response to the severe humanitarian situation and the looming COVID-19 crisis in Northwest Syria (Idlib and Aleppo Governorates),UOSSM continues an emergency response plan with the following measures: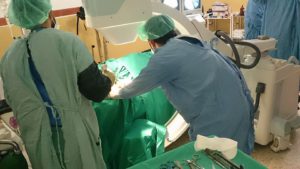 UOSSM Supports Advanced Secondary Health Services in Syria
On May 1, UOSSM began providing advanced secondary health services in Syria. The services include urinary tract diagnostic and rehabilitation services in Sarmada, and renal dialysis services, improving the health of patients in Tal Abyad.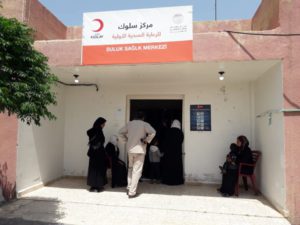 Al Salouk Health Care Center Begins Providing Services in Tal Abyad
The Salouk Health Care Center in Tal Abyad has provided medical services to over 2,700 patients since opening in April, 2020. The center includes an internal clinic, a gynecological clinic, a vaccine department, and an ambulance system.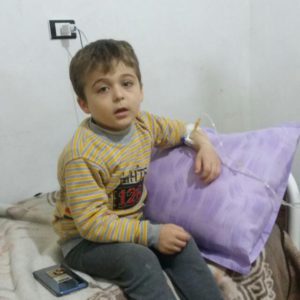 Impact Story- Cancer Patients Unable to Receive Medications Due to Closure of Turkish Borders from COVID-19
Due to the global COVID-19 crisis, many of the Syrian borders with Turkey were closed. This left Syrian patients, who used to seek advanced treatment of cancer in Turkey, in critical need for medicines to treat their cancer. Many of these patients are children. Out of a moral, humanitarian obligation, UOSSM Turkey began this campaign: #SaveALife to provide the medications needed to treat cancer patients. The first ten children began receiving chemotherapy in one of the hospitals in northern Syria. There is a large number of patients still requiring cancer treatment. You can help provide medications that are desperately needed by donating today.
Because of caring individuals like you, UOSSM USA was able to sponsor some children to receive their cancer treatment.