March 2020 Activities and Updates from UOSSM USA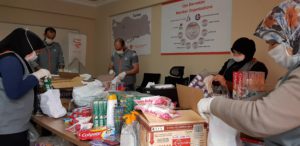 1000+ Hygiene Kits Distributed in Response to COVID-19
UOSSM USA, in collaboration with UOSSM Turkey, distributed over 1000 hygiene kits to Syrian women and children in camps and areas of displacement in response to the COVID-19 pandemic. The kits were distributed among three camps. Hygiene supplies are desperately needed as there is limited access to clean water and soap. Among items included in the kits to provide protection  from COVID-19 are soap, shampoo, hand sanitizer and tissues. Easy to read educational brochures about COVID-19, and preventative measures to be taken amid the camps, were also included in the kits.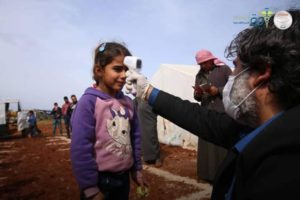 UOSSM Takes Preventive Measures in Wake of Coronavirus
UOSSM began taking several preventative measures and preparations in wake of COVID-19. Preventative measures include: providing health care providers with personal protection equipment (protective gloves, masks, disinfectants), creating an exclusive phone number in each health center to provide advice and guidance necessary for protection from COVID-19, and training staff on necessary procedures in suspected cases of the Coronavirus.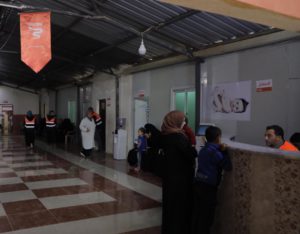 UOSSM Begins Providing Medical Services in the Khirbet Aljoz Primary Health Care Center in Idlib
UOSSM medical staff began providing various health care services in March, in the Khirbet Aljoz Primary Health Care Center. Services provided include; gynecology, pediatric care, mental health care, pharmacy, community health, internal medicine and nutrition services.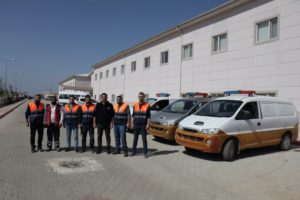 UOSSM Provides Three Ambulances to the Hatay Health Directorate in Turkey
UOSSM provided three ambulances to the Orfa Health Directorate in Turkey in March. This is part of a cooperative strategy within the region.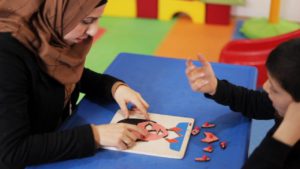 Impact- How Abd Al Rahman Adjusted to Life With Autism
Abd Al Rahman's mother was very nervous. Her little boy would not respond to his name. She was so nervous that she took him to a doctor to check his hearing, which turned out to be fine. But she still couldn't figure out what was wrong with him. Abd Al Rahman would not socialize, he did not recognize the simplest of things such as colors, fruits, vegetables etc. She saw a commercial on television about Autism and noticed that her son had some of the same behaviors described.
She took her son to a UOSSM Mental Health Center to figure out what was wrong with him. At the age of six, Abd Al Rahman was diagnosed with Autism. His specialized treatment plan included developing his social skills, response and movement among other technical skills. After ten months of treatment his condition improved dramatically. He knows how to select the correct object when asked and socializes more with others. His mother is so happy with his progress.
Since 2012, UOSSM has been providing emergency medical relief and healthcare services to the Syrian people affected by the crisis, working primarily inside Syria and with Syrian refugees in Turkey.
In 2018: