January 2020 Activities and Updates from UOSSM USA
Humanitarian Catastrophe in Idlib; Over 900,000 Displaced
The humanitarian situation in Idlib is catastrophic as over 900,000 have been displaced since December. Around 60% of those displaced are children. Many families are living in dire conditions in the freezing cold, some still in the open, without shelter. Several deaths have been reported, due to the freezing temperatures, many were children.
Since April 2019, there have been at least 78 attacks on medical facilities, and thousands of civilians have been killed and wounded. UOSSM is responding by providing life-saving medical care and emergency aid to those who need it most. In addition, UOSSM has increased the operation of mobile clinics in areas of the newly displaced. Please click the donate button to support the people of Syria.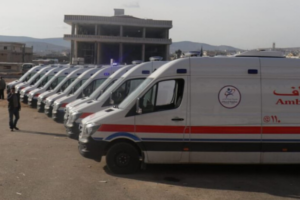 UOSSM Provides 10 New Ambulances to Idlib Health Directorate
In response to the recent escalation of violence in Idlib, UOSSM provided 10 new full equipped ambulances to the Idlib Health Directorate. The vehicles will be used by the Central Ambulance System, and will better prepare the ambulance system to respond to medical care and emergencies of the people of Idlib. The Central Ambulance System began operating in June 2018 and includes 50 fully equipped ambulances distributed throughout the area.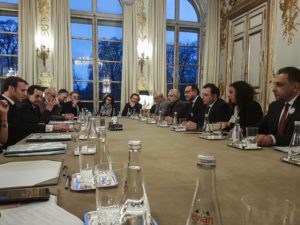 UOSSM and 15 Other Humanitarian Organizations Meet with President Macron About Catastrophic Situation in Idlib
On January 8, UOSSM and 15 other humanitarian organizations met with French President Emmanuel Macron. The purpose of the meeting was to discuss the catastrophic humanitarian situation in Idlib that has witnessed an unprecedented escalation in violence in recent months. The meeting allowed humanitarian organizations operating on the ground to shed light on the dire situation that is unfolding in Idlib and the call for immediate action to be taken, and for safe humanitarian corridors to be opened, allowing humanitarian aid in the region.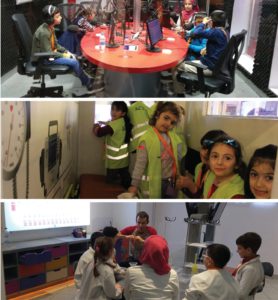 The UOSSM Mental Health Center in Istanbul Holds Activities for Syrian Refugees
The UOSSM Mental Health Center in Istanbul held outdoor activities for Syrian children to help them strengthen their skills and improve their mental health. The goal is to enable the children to be strong and adapt to their community.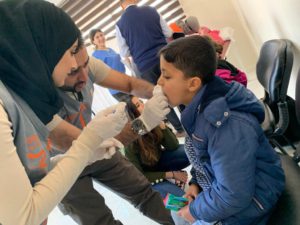 Impact- Smiles For Syria Phase One Complete
Phase one for the Smiles for Syria campaign was completed in early January. Thanks to your support, the team, in collaboration with UOSSM and UOSSM USA, were able to successfully train a team of community health workers on how to carry out dental preventative measures, and will go on to treat over 1000 refugee children over the course of the next few months under the supervision of a dentist , with 130+ children being treated during the first week.
Each child was provided with: 1. Toothbrush and toothpaste 2. Fluoride varnish application 3. GIC Fissure sealants 4. SDF application. These measures will go on to improve the children's oral health and prevent dental problems in the future in a population that is already at high risk with limited access to dental care, with many children never having even owned a toothbrush.
Since 2012, UOSSM has been providing emergency medical relief and healthcare services to the Syrian people affected by the crisis, working primarily inside Syria and with Syrian refugees in Turkey.
UOSSM: