The devastating earthquake affected the people of northwest Syria in many ways. Many cancer patients waited for months to receive treatment in Turkey. Unfortunately, some patients died waiting, including Taym in the video below. Patients need radiotherapy sessions which is not available at all in northwest Syria. Other  patients need chemotherapy, which may be available in northwest Syria, but at a very high cost. These services are provided free of charge in Turkey.
The video above is 8 year old Taym as he tells his story of struggling with cancer, he passed away waiting for treatment.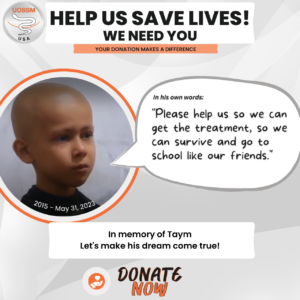 The health situation in northwest Syria has been deteriorating for years, due to the war, lack of essential needs, and exposure to various types of chemicals and carcinogens from weapons, which has led to various outbreaks and diseases, and a high rise in cancer and incurable diseases. These factors are all causing a high percentage of deaths among cancer patients.
There are three specialized oncology centers in northwest Syria. These centers provide free consultations in addition to some simple medical procedures. This varies based on availability of the medicines and capability to provide services. Cancer patients suffer from the high cost of chemical medicines and some procedures that may require accommodation in private hospitals to take doses,  receive intensive care, etc. Many times the family cannot afford the high costs.
Currently, there are 4300 active cancer cases in northwest Syria.
The most common cancers are breast cancer – 13%, lung cancer – 11%, blood cancer – 10%, colorectal cancer – 7%, prostate cancer – 6%, stomach cancer – 4%.
More than 15% of those patients are children suffering from blood cancer.
The major cause of death for these cancer patients is the inability to access expensive medicines and treatment.